Csokor, Franz Theodor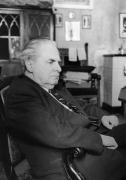 © Copyright
Franz Theodor Csokor, photo, 1964
---
Csokor, Franz Theodor, b. Vienna, Sept. 6, 1885, d. Vienna, Jan. 5, 1969, dramatist, important poet and novelist, representative of the expressionist drama ("Die rote Straße", 1918). 1922-1928 dramatic advisor at the Raimundtheater and at the Deutsche Volkstheater in Vienna. Emigration in 1938, from 1944 in Rome, where he worked for the BBC, 1946 returned to Vienna. From 1947-1969 president of the Austrian P. E. N. Club, from 1967 vice president of the International P.E.N. Club. As an ardent humanist C. advocated peace, liberty and human rights in his plays. 1937 awarded the Grillparzer Prize and the Burgtheater Ring, 1955 Grand Austrian State Prize.
---
Works: Plays: Die Sünde wider den Geist, 1918; Gesellschaft der Menschenrechte, 1929; Besetztes Gebiet, 1930; 3. Nov. 1918, 1936; Der verlorene Sohn, 1947. - Prose: Über die Schwelle, 1937 (novellas); Auf fremden Straßen, 1939-1945 (autobiography); Zeuge einer Zeit, 1964; Auch heute noch nicht an Land. Briefe und Gedichte aus dem Exil, 1993. - Poetry: Der Dolch und die Wunde, 1918; Ewiger Aufbruch, 1926; Das schwarze Schiff, 1945.
Literature: P. Wimmer, Der Dramatiker F. T. C., doctoral thesis, Vienna 1981; B. Brandys, C. Identität von Leben und Werk, 1988; J. P. Strelka (ed.), Immer ist Anfang. Der Dichter F. T. C., 1990; U. N. Schulenburg, Lebensbilder eines Humanisten. Ein F.-T.-C.-Buch, 1992.
---
References to other albums:

---