Cimburgis Cymbarka, Cymburga von Masowien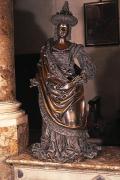 © Copyright
Statue of Cimburgis at the tomb of Emperor Maximilian in the Hofkirche church (Innsbruck, Tyrol).
---
Cimburgis (Cymbarka, Cymburga) of Masovia, b. Warsaw, Poland, 1394/97, d. Türnitz (Lower Austria), Sept. 28, 1429, married Duke Ernst "the Iron" of Inner Austria, Styria, in 1412, descended from a collateral line of the Piasts, had nine children (among them the future Emperor Friedrich III) and was therefore the progenitress of the Habsburg dynasty. Buried in Lilienfeld (Lower Austria).
---
Literature: M. Schellmann, Zur Geschichte Herzog Ernsts des Eisernen, doctoral thesis, Vienna 1966.
---