Chrobak, Rudolf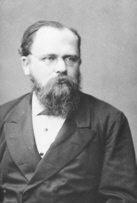 © Copyright
Rudolf Chrobak, photo around 1900
---
Chrobak, Rudolf, b. Opava, Czech Republic (then Troppau), July 8, 1843, d. Vienna, Oct. 1, 1910, gynaecologist, professor in Prague and Vienna, co-founder of modern gynaecology, skilled surgeon, planned and managed the rebuilding of the Viennese gynaecological hospital departments together with F. Schauta.
---
Work: Allg. gynäkolog. Therapie und Untersuchungsmethode, in: Handbuch der Frauenkrankheiten, 1879.
Literature: ÖBL; NDB.
---