Caldara, Antonio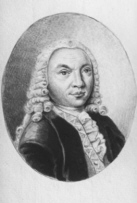 © Copyright
Antonio Caldara, ink brush drawing
---
Caldara, Antonio, b. Venice (Italy), around 1670, d. Vienna, Dec. 28, 1736, musician, Italian composer of the late baroque period; trained in Venice, first in service in Mantua and Rome; Deputy Court Music Director from Jan. 1, 1715 (with J. J. Fux); apparently more highly esteemed by Karl VI than his Court Music Director Fux. Composed mainly operas and oratorios; his very extensive work has so far been investigated only partially.
---
Works: About 90 operas (Daphne, La Clemenza di Tito and others), 43 oratorios, various secular and spiritual Cantatas, trio sonatas and masses.
Literature: B. Pritchard, A. C., 1987.
---
References to other albums:

---