Bruckner, Ferdinand eigentlich Theodor Tagger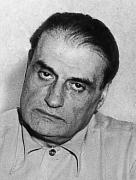 © Copyright
Ferdinand Bruckner. Photo, 1958.
---
Bruckner, Ferdinand (real name: Theodor Tagger), b. Vienna, Aug. 26, 1891, d. Berlin (Germany), Dec. 5, 1958, dramatist and poet. 1923 founded the Renaissance Theater in Berlin, which he headed until 1927; 1933 returned to Vienna, 1936 emigrated to the USA; from 1951 in Berlin. B. started as a radical expressionist but later turned to the markedly realistic psychological drama using the pen name "F.B.", became an exponent of neorealism. In his last years wrote dramas in verse form.
---
Works: Dramas: Krankheit der Jugend, 1926; Die Verbrecher, 1928; Elisabeth von England, 1930; Timon, 1932; Die Rassen, 1933; Napoleon I., 1937; Simon Bolivar, 1945; Die Befreiten, 1945; Denn seine Zeit ist kurz, 1945; Fährten, 1948; Pyrrhus und Andromache, 1952; Der Tod einer Puppe, 1956; Der Kampf mit dem Engel, 1956; Das irdene Wägelchen, 1957. - Poetry, translations.
Literature: C. Lehfeldt, Der Dramatiker F. B., 1975; D. Engelhardt, F. B. als Kritiker seiner Zeit, doctoral thesis, Aachen 1984.
---