Brentano, Franz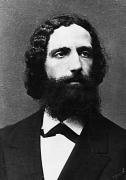 © Copyright
Franz Brentano, photo
---
Brentano, Franz, b. Marienberg (Germany), Jan. 16, 1838, d. Zurich (Switzerland), March 17, 1917, philosopher, priest, nephew of the German Romantic poet Clemens B., 1873-1880 lecturer, until 1894 senior lecturer in Vienna; 1895 moved to Florence, 1915 to Zurich. Proceeding from Aristotle´s work, B. closely connected philosophy with psychology which he regarded as the basic science. His ideas influenced the Grazer Schule and phenomenology.
---
Works: Psychologie vom empir. Standpunkte, 3 vols., 1874 and 1924-1928; Vom Ursprung sittl. Erkenntnis, 1889; Untersuchungen zur Sinnespsychologie, 1907; Von der Klassifikation der psychischen Phänomene, 1911. - Gesamtausgabe ed. by. F. Mayer-Hillebrand, 1952ff.
Literature: J. M. Werle, F. B. und die Zukunft der Philosophie, 1989; E. Tiefensee, Philosophie und Religion bei F. B. (1838-1917), 1998.
---