Binder, Franz "Bimbo"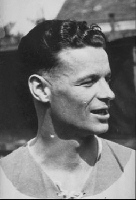 © Copyright
Franz Binder. Photo, around 1940.
---
Binder, Franz ("Bimbo"), b. St. Pölten (Lower Austria), Dec. 1, 1911, d. Vienna, April 24, 1989, soccer player. 1930-1949 played for Rapid Wien; famous for the power behind his shots, played several times in the Austrian national team. Trainer in the Netherlands and Germany.
---