Beda-Löhner, Fritz auch Löhner-Beda, eigentlich Löhner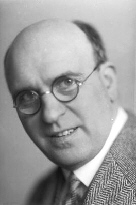 © Copyright
Fritz Beda-Löhner. Photo, around 1925.
---
Beda-Löhner, Fritz (also: Löhner-Beda, real name: Löhner), b. Ustí nad Orličí, Czech Republic (then Wildenschwert), June 24, 1883, d. Auschwitz concentration camp (Poland), Dec. 4, 1942, writer, journalist. A relatively unknown playwright, it was chiefly as a librettist (librettos for operettas by F. Lehár and P. Abraham) and pop lyricist in the 1920s that he built up his extraordinary reputation in Austria.
---
Works: Poems, chansons. - Librettos: Friederike, 1928; Das Land des Lächelns, 1929 (The Land of Smiles); Schön ist die Welt, 1930; Viktoria und ihr Husar, 1930; Blume von Hawaii, 1931; Ball im Savoy, 1933; Giuditta, 1933; Ich hab mein Herz in Heidelberg verloren, 1934.
Literature: G. Schwarberg, Dein ist mein ganzes Herz. Die Geschichte von F. L.-B., 2000.
---