Austria Tabak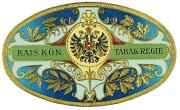 © Copyright
Austria Tabak: label on a cigar box, 1908.
---
Austria Tabak, founded 1784 by the "Tabakpatent" (Tobacco Patent) signed by Joseph II, called the "Österreichische Tabakregie" until 1938, run as joint-stock company wholly owned by the Republic of Austria after World War II (until 1997). As the state-owned monopoly enterprise, Austria Tabak was charged with the administration and discharge of all duties arising from the tobacco monopoly. At the beginning of the 1990s, the company was transformed from a monopoly enterprise into an internationally orientated industry and service enterprise, in view of the EU Single Market and its accompanying abolition of the monopoly. From 1993-1995 Austria Tabak also owned the HTM-Gruppe comprising Head, Tyrolia, Mares, and Brixia. Since 1997 Austria Tabak AG has been listed at the Vienna Stock Exchange, having had more than half of its shares privatised.
Austria Tabak sold a total of 20 bn cigarettes from its own production lines in 1996, 13 bn of which were sold in Austria. Austria Tabak's tobacco products can be purchased in 40 countries. In 1996 the group's net revenues were ATS 17.4 bn and it employed 3,500 people.
---
References to other albums:

---