Arbeiterzeitung, AZ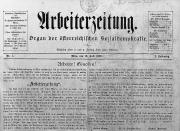 © Copyright
Arbeiterzeitung: section of the cover page from the first issue on July 12, 1889.
---
Arbeiterzeitung, AZ, newspaper founded in 1889 by V. Adler as successor to the banned newspaper "Gleichheit". Main mouthpiece of the Austrian Social Democrats. Appeared every 2 weeks in Vienna from July 12, 1889, weekly from October 18, 1889, and from January 1, 1895 as a daily newspaper until it was banned on February 12, 1934. From February 25, 1934 until March 15, 1938, it was published weekly in exile from Brünn/Brno and smuggled into Austria. After World War II the AZ was re-established as the party newspaper of the Austrian Socialist Party (SPÖ). The newspaper appeared in this function from August 5, 1945 until September 14, 1989, then as a politically independent newspaper until October 31, 1991, when it was discontinued for financial reasons. Important editors-in-chief (F. Austerlitz, 1895-1931; O. Pollak, 1931-1934 and 1946-1961; F. Kreuzer, 1962-1967; P. Blau, 1967-1970; M. Scheuch 1970-1989) and prominent contributors from the upper echelons of the Party made the newspaper one of the most important voices in Austrian political debates: concentrated on class-struggle politics before World War I, used as mouthpiece for party line in the 1920s, spoke out for the rights of Austrians during the Allied occupation and actively promoted a more flexible party line from the 1960s on.
Circulation: 1900: 24,000; 1914: 54,000; 1930: 100,000; 1948: 245,000; 1990: 100,000.
---
Further reading: G. Melischek and J. Seethaler, Die Wiener Tageszeitungen, vol. 3, 1992; P. Pelinka and M. Scheuch, 100 Jahre AZ, 1989.
---