Annalen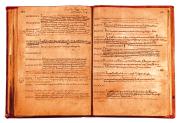 © Copyright
Annals of Melk, 1123-1564 (Melk Abbey Library, Lower Austria).
---
Annals (yearbooks), chronological accounts of contemporary events (as distinguished from Chronicles, which are written as coherent histories). The oldest annals in Austria were kept in Salzburg (8th-10th centuries) and have only been passed on in part. The annals of Niederaltaich (Bavaria) are an important historical source from the 11th century; the annals of Göttweig (around 1115) have been lost. The origin of Austrian annals is considered to be the annals of Melk (begun 1123, kept until 1564), from which a number of other monasteries took passages and continued their own annals: Klosterneuburg, Heiligenkreuz, Lilienfeld, Zwettl, Schotten in Vienna, Dominicans (or Minorites) in Vienna, Kremsmünster-Lambach, Reichersberg. The Salzburg-Admont-Garsten annals are considered to be a separate group. Austrian annals were fairly short until 1200, mostly containing only one event per year. Towards the end of the 12th century, the annals became more detailed, primarily giving accounts of provincial history. Most monastery annals end in the 13th century, and only a few continue beyond that point. At times detailed accounts are also included in the annals, such as in the "Historia annorum 1264-1279" by the monk Gutolf in Heiligenkreuz.
Some Baroque historiographers also called their works annals, e.g. Hieronymus Megiser, "Annales Carinthiae", 1610; Valentin Preuenhuber, "Annales Styrenses", 1625-1630; F. C. Khevenhüller, "Annales Ferdinandei", 12 vols., 1640-1726; Abbot Bernhard Linck von Zwettl, "Annales Austro-Claravallenses", 1723-1725.
---
Ausgabe: Monumenta Germaniae Historica, Scriptorum IX, ed. G. H. Pertz, 1851, XXX, part 1, 1925.
Further reading: A. Lhotsky, Quellenkunde zur mittelalterlichen Geschichte Österreichs, 1963; S. Haider, Ein neuentdecktes Lilienfelder Annalen-Fragment, MIÖG 82, 1972.
---