Abraham a Sancta Clara eigentlich Johann Ulrich Megerle, Pseudonym: Gautentius Hilarion, Hilarius von Freudberg, Theophilus Mariophilus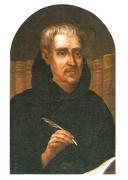 © Copyright
Abraham a Sancta Clara, anonymous painting, late 17th century (Historisches Museum der Stadt Wien)
---
Abraham a Sancta Clara (real name: Ulrich Megerle, pseudonyms: Gautentius Hilarion, Hilarius von Freudberg, Theophilus Mariophilus), b. Kreenheinstetten near Meßkirch (Germany), July 2, 1644, d. Vienna, Dec. 1, 1709, popular writer and famous preacher during the Turkish Wars. In 1662 became a bare-footed Augustinian monk, in 1677 was made court preacher in Vienna and Order Provincial in 1690. His sermons were circulated in leaflet form; "Mercks, Wienn!" (1680) and "Auff, auff, Ihr Christen" (1683) became famous. An anthology of his work "Reimb Dich, Oder, Ich Liß dich" inspired F. Schiller to write the sermon of the Capuchin monk in "Wallensteins Lager". In his work, he preached against vice and promoted virtue in often coarse, but always powerful language. The use of satirical puns (metaphors, verses, jokes) in the tradition of Jesuit tract literature, chronicles and drolls is typical.
---
Further works: Lösch Wienn, 1680; Judas Der Ertz-Schelm, 4 vols., 1686-1695; Etwas fuer Alle, 3 vol., 1699; Huy! Und Pfuy! der Welt, 1707. - Edition: Werke, ed. by K. Bertsche, 3 vols., 1943-1945.
Literature: F.M. Eybl, A. a. S. C., 1992; J.-M. Schillinger, A. a. S. C., 1993.
---