Abraham, Raimund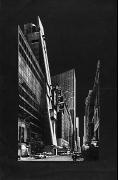 © Copyright
Raimund Abraham, (design) model for the rebuilding of the Austrian cultural institute in New York, 1992
---
Abraham, Raimund, b. Lienz (Tyrol), July 23, 1933, architect and professor of architecture. Studied at the Graz University of Technology. Emigrated to the USA in 1964; since 1971 professor at the Cooper Union and at the Pratt Institute in New York. Numerous international awards.
---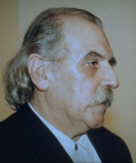 © Copyright
Raimund Abraham. Photo.
---
Works: IBA residential and commercial building, Berlin, 1980-1985; housing estate Traviatagasse, Vienna, 1987-1991; residential and commercial building, Graz, 1990-1993; bank building (Tiroler Landeshypothekenbank), Lienz, 1993-1996; Austrian cultural institute, New York, 1998-2001. - Exhibitions incl.: Museum of Modern Art, New York; Centre Georges Pompidou, Paris; German Museum of Architecture, Frankfurt am Main. - Publications: Elementare Architektur, 1963; Ungebaut/Unbuilt, exhibition catalogue, Innsbruck 1986; Grenzlinien, Graz 1989.
Literature: B. Groihofer (ed.), R. A., [Un]built, 1996.
---