Waldeck, Heinrich Suso eigentlich Augustin Popp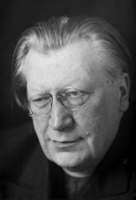 © Copyright
Heinrich Suso Waldeck, photo, around 1925
---
Waldeck, Heinrich Suso (real name: Augustin Popp), b. Všeruby, Czech Republic (then Wscherau in Egerland), Oct. 3, 1873, d. St. Veit im Mühlkreis (Upper Austria), Sept. 4, 1943, poet, narrative writer, publisher, art dealer, musician, composer and bank clerk in Dresden. 1896-1904 member of the Redemptionist Order and after World War I teacher of religion. Worked with P. von Preradović, R. Billinger and F. Schreyvogl in the Austrian Leo society (named after Pope Leo XIII) "Leo-Gesellschaft". Wrote religious mystical works of highly sophisticated form. His works focused on man´s negative experience of nature and the self-destructive role of modern man. Austrian State Prize in 1937.
---
Works: Poetry: Antlitzgedichte, 1926; Die milde Stunde, 1933. - Novel: Lumpen und Liebende, 1930. - Narrative: Hildemichel, 1933. - Plays, ballads. - Edition: Gesammelte Werke, ed. by F. S. Brenner, vol. 1: Dichtungen, 1948.
Literature: A. Schiffkorn, H. S. W. Monographie, 1981.
---