Wagner-Rieger, Renate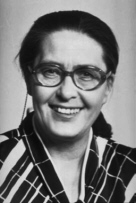 © Copyright
Renate Wagner-Rieger, photo, 1970
---
Wagner-Rieger, Renate, b. Vienna, Jan. 10, 1921, d. Vienna, Dec. 11, 1980, art historian. Prominent researcher into architecture and historicism (which she classified into Romantic historicism, high historicism and late historicism). 1958-1980 University Professor in Vienna, founded the large-scale research project "Wiener Ringstraße" (1968ff.); pioneer work in methodology of 19th century research.
---
Works: Die italienische Baukunst zu Beginn der Gotik, 2 vols., 1956/57; Das Wr. Bürgerhaus des Barock und Klassizismus, 1957; Das Schloß zu Spittal an der Drau in Kärnten, 1962; Wiens Architektur im 19. Jahrhundert, 1970; Das Haus der Österreichischen Akademie der Wissenschaften, 1972
Literature: H. Fillitz, P. Haiko and W. Krause (eds.), R. W-R., 1981.
---