Vischer, Georg Matthäus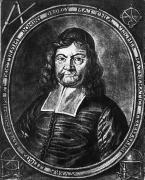 © Copyright
Georg Matthäus Vischer, engraving
---
Vischer, Georg Matthäus, b. Wenns (Tyrol), April 22, 1628, d. Linz (Upper Austria), Dec. 13, 1696, topographer, priest in Leonstein (Upper Austria) and in Vienna. By order of the Estates he created maps and for this purpose drew over 1,000 views of cities, castles, palaces and monasteries in Lower Austria, Upper Austria, Styria, Moravia and Hungary; in many cases they are the oldest depictions in existence.
---
Works: Topography of Lower Austria, recorded 1670/71, 507 copper engravings, 1672; topography of Upper Austria, recorded 1667/68, 222 copper engravings, 1669-1674; topography of Styria, recorded from 1673, around 500 copper engravings, before 1696. - Further works: Herrschaft Salzburg, 1662; map of Lower Austria, 1670; Abriß der Wieselburger Gespannschaft, 1672; view of the monastery at Admont (Große Ansicht von Stift Admont), 1674; View of Vienna, 1675; view of Graz, 1675; border between Styria and Salzburg near Mandling, 1677; map of Styria, recorded 1673-1675, copper engraving 1678; District Court, Monastery of Kremsmünster, 1678; 4 maps in quarter format of Lower Austria. (1669/70, reprint 1695-1697).
Literature: A. L. Schuller, in: G. M. V., Topographia archiducatus Austriae inferioris modernae, new edition, 1976.
---
References to other albums:

---