Spinnerin am Kreuz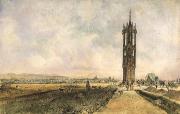 © Copyright
Spinnerin am Kreuz. Watercolour by R. von Alt, 1841 (Historisches Museum der Stadt Wien).
---
Spinnerin am Kreuz, name of two different Gothic column-like stone monuments in Vienna and Wiener Neustadt (Lower Austria): 1) situated in the 10th district of Vienna, legendary old landmark on Wienerberg hill, erected in 1375 according to plans by Meister Michael Knab, destroyed in 1446, re-erected in a new design using the old foundations by H. Puchsbaum in 1451/52 (?), tall and elaborately structured tabernacle pillar on an octagonal cross-shaped floor plan decorated with pinnacles and baldachins, groups of figures in the baldachins (The Crucifixion, The Scourging Of Christ, Christ Crowned With Thorns, Ecce Homo); the site was also used as a place of execution until 1747 and 1804-1868; restored several times; 2) situated in Wiener Neustadt, erected by Meister M. Knab outside of the town (in front of the Wiener Tor gate), 1382-1384, 21 m high, composed of four tapering elements, richly ornamented with figures, among them statues of saints, reliefs depicting scenes of the Passion of Christ, coats of arms and relief busts of the founder, the master builder and their wives.
---
Literature: R. K. Donin, Meister M. Knab, in: idem, Zur Kunstgeschichte Österreichs, 1951; F. Dahm and M. Koller, Die Wiener Spinnerin am Kreuz, 1991.
---