Skoda, Josef eigentlich Škoda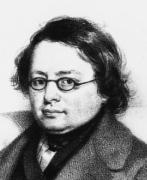 © Copyright
Josef Skoda, lithograph by A. Prinzhofer
---
Skoda, Josef (correct: Škoda), b. Plzeń, Czech Republic (then Pilsen), Dec. 10, 1805, d. Vienna, June 13, 1881, famous internist; uncle of the industrial entrepreneur Emil v. S. (1839-1900), director of the company "Skodawerke" (1866). 1841 medical director, 1846-1871 university professor in Vienna; improved auscultation and percussion as physical examination techniques and, through comparison with pathological findings, created the basis for modern diagnostics. Worked with C. v. Rokitansky and was one of the few open supporters of I. P. Semmelweis. Rokitansky and S. were the leading personalities of the "younger" Vienna School of Medicine.
---
Work: Über Perkussion und Auskultation, 1839.
Literature: M. Sternberg, J. S., 1924.
---