Schratt, Katharina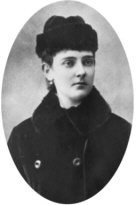 © Copyright
Katharina Schratt. Photo, around 1890.
---
Schratt, Katharina, b. Baden (Lower Austria), Sept. 11, 1853, d. Vienna, April 17, 1940, actress; great-aunt of Peter Schratt. From 1873 at the Vienna Municipal Theatre; 1883-1900 at the Burgtheater, from 1887 Court Actress (Hofschauspielerin), from 1893 member of the Burgtheater for life. From 1883 close friendship with Emperor Franz Joseph I (from 1886 with the consent of Empress Elisabeth. S. villas in Vienna-Hietzing (near Schönbrunn Palace) and in Bad Ischl.
---
Literature: J. v. Kürenberg, K. S., 1941; G. Markus, K. S., 31987; B. Hamann (ed.), Meine liebe, gute Freundin! Die Briefe Kaiser Franz Josephs an K. S., 1992; J. Haslip, Die Freundin des Kaisers, 21998.
---