Porsche, Ferdinand, * 1875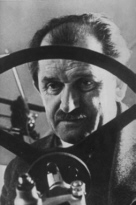 © Copyright
Ferdinand Porsche. Photo, around 1935.
---
Porsche, Ferdinand, b. Vratislavice nad Nisou, Czech Republic (then Maffersdorf), Sept. 3, 1875, d. Stuttgart (Germany), Jan. 30, 1951, automobile engineer, technical designer at Volkswagen, father of Ferdinand Anton Ernst (Ferry) Porsche and Louise Pieëch. >From 1898-1905 at the Lohner-Werke company in Floridsdorf, Vienna, where he developed the "Lohner-P." with a wheelhub motor (1900 at the Paris World Exhibition). 1906-1923 technical director of the Austro-Daimler Motoren AG car company in Wiener Neustadt. From 1908 also built aeroplane engines, during World War I traction engines for heavy mortars and 1921 the "Sascha" sports car. Afterwards technical designer for Daimler-Benz in Stuttgart (racing cars and lorries); 1929-1931 chief technical engineer for the Steyr company, where he constructed the "Steyr 30" and "Steyr 100" cars. From 1931 had his own construction office again in Stuttgart, where he designed racing cars, models for Zündapp and the NSU-Werke and started to design a cheap Volkswagen car. His plans found favour with the National Socialists and the car factory in Wolfsburg was constructed from 1937 by the "German Labour Front" ("Deutsche Arbeitsfront") under his technical direction. He did not agree with the military exploitation of the idea and moved his production plants to Gmünd (Carinthia) during the war, where he at first constructed the "P. Sports car", which from 1950 was produced in Zuffenhausen, Stuttgart. Managed the factory in Gmünd until his death.
---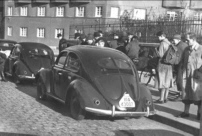 © Copyright
Ferdinand Porsche: presentation of the first Volkswagen cars in Vienna.
---
Literature: F. Müller, F. P., 1999.
---