Oberhuber, Oswald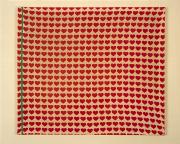 © Copyright
Oswald Oberhuber, "Herzen". Oil on canvas, 1963.
---
Oberhuber, Oswald, b. Meran/Merano (South Tyrol), Feb. 1, 1931, painter, sculptor, graphic artist. Initially representative of informal painting and sculpture (junk sculptures, object collages). Established the "permanent change in art" (1958) and later began depicting figures using a variety of painting techniques and themes. 1972 represented Austria at the Biennale in Venice, 1973-1998 professor and from 1979-1987 and 1991-1995 Rector at the School of Applied Arts in Vienna.
---
Literature: W. Skreiner, O. O., exhibition catalogue, Graz 1973; J. Schilling, O. O., exhibition catalogue, Innsbruck 1982; J. Fink, O. O., Paradiesgarten, 1983; P. Weiermair, O. O., Arbeiten auf Papier, 1984; O. O. Die Irritation in der Kunst, exhibition catalogue, Vienna 1991; O. O. Geschriebene Bilder. Bis heute, exhibition catalogue, Vienna 1999.
---