Mikl, Josef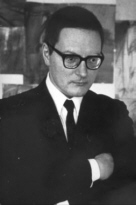 © Copyright
Joseph Mikl. Photo, 1980.
---
Mikl, Josef, b. Vienna, Aug. 8, 1929, d. Vienna, March 29, 2008, painter and graphic artist. Studied at the Academy of Fine Arts in Vienna under J. Dobrowsky; 1956 co-founder of the group of artists "Gallery next to St. Stephen's" (with W. Hollegha, M. Prachensky, A. Rainer); 1968 Austrian representative at the Biennale in Venice; from 1969-1997 teacher at the Academy of Fine Arts in Vienna. Represents "abstract realism" (in a variety of forms of expression) with the human figure as the central subject. Places particular importance on drawings. M. created the ceiling paintings and frescoes in the Große Redoutensaal in the Hofburg Imperial Palace (reopened in 1997 after the fire of 1992). Awarded the Austrian Decoration for Science and Art in 1990.
---
Literature: W. Hofmann et al., J. M., 1979; J. M. 1980-1987, exhibition catalogue, Vienna 1988; K. Giraldi-Haller, Studien zu J. M., 2 vols., doctoral thesis, Vienna 1996.
---