Meytens, Martin van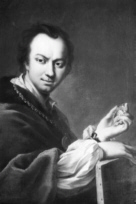 © Copyright
Martin van Meytens, self-portrait
---
Meytens, Martin van, baptised Stockholm (Sweden), June 16, 1695, d. Vienna, March 23, 1770, portrait painter of Dutch origin. Studied A. van Dyck´s works, 1714 in England, 1717 great success in Paris, 1721 in Vienna, 1723-1730 in Italy, from 1730 remained in Vienna. 1732 given the title of imperial Kammermaler*, under Maria Theresia the title of "Hofmaler" and 1759 made director of the Academy. First he created enamel paintings and miniatures, later he accepted orders for grand portraits of individuals or groups. Some of his often routine portraits demonstrate great subtlety of colour and substance.
---
Works: Maria Theresia als Königin von Ungarn, after 1741; Kaiser Franz I., 1745-1750; Familie der Grafen Pálffy, 1752/53; Fam. Grill (Museum Gothenburg); Maria Theresia als Herrscherin 1750-1755 (Schönbrunn Palace); Ksl. Familie, 1754 (Schönbrunn Palace); Maria Theresia, 1759 (Academy of Fine Arts). - Ascribed: portraits of Maria Theresia and Francis I in Melk and Lilienfeld.
Literature: B. Lisholm, M. v. M., 1974; NDB.
---