Leopold IV., Babenberger-Markgraf, * 1108 ?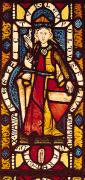 © Copyright
Margrave Leopold IV, painting on glass in the pump house of the monastery in Heiligenkreuz, Lower Austria
---
Leopold IV, b.1108 (?), d. Niederaltaich (Germany), Oct. 18, 1141, Babenberg Margrave, son of Leopold III. Though younger than his two brothers Adalbert and Heinrich II. (Jasomirgott), L. became Margrave in 1136 (family feud?) and in 1139 Duke of Bavaria. Was able to assert himself as Duke there as his brother Otto was Bishop of Freising from 1138. L. handed over St. Peter's in Vienna to the Bishop of Passau in return for St. Stephan's church, then still under construction. During his rule the Kuenring family founded the monastery in Zwettl; he confirmed this and gave the monastery presents. Buried in Heiligenkreuz.
---
Literature: K. Lechner, Die Babenberger, 51994; NDB.
---