Lang, Marie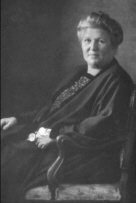 © Copyright
Marie Lang, photo around 1910
---
Lang, Marie, b. Vienna, March 8, 1858, d. Altmünster (Upper Austria), Oct. 14, 1934, social worker, women´s rights activist, prominent in the women´s rights movement around R. Mayreder. Fought esp. for protective legislation for working mothers and the legal status of illegitimate children.
---
Publications: Wie ich zur Frauenbewegung kam, in: Die Österreicherin, 1930; Dokumente der Frauen (co-ed.), 1899-1903.
Literature: G. Urban, M. L., Ein Gedenkblatt, 1934; ÖBL.
---