Johann Salvator, Erzherzog von Österreich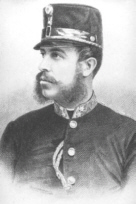 © Copyright
Archduke John Salvator, engraving by A. Weger
---
Johann Salvator, Archduke of Austria, b. Florence (Italy), Nov. 25, 1852, went missing in 1891 and declared dead in 1911, Archduke of Austria, youngest son of Grand Duke Leopold II of Tuscany. In 1889 voluntarily renounced his titles and called himself J. Orth, married a ballet dancer from the Vienna Court Opera, M. Stubel, in England in 1889. Went on a world tour with a sailing ship in 1890 was probably killed off the South American coast.
---
Works: Geschichte des k. k. Linien-Infanterie Regiments Nr. 12, 2 vols., 1877/1880; Drill oder Erziehung, 1883; Einblicke in den Spiritismus, 1884.
Literature: F. Weissensteiner, Ein Aussteiger aus dem Kaiserhaus: J. Orth, 1985.
---