Heller, André Franz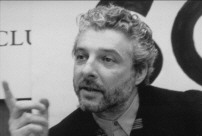 © Copyright
André Heller, photo, 1990
---
Heller, André (Franz), b. Vienna, March 22, 1947, multimedia artist, entertainer, singer-song-writer, author. From 1968 made records with poetic-satirical songs, since 1976 has organised spectacular projects intended to bring nations together. 1976 together with B. Paul founded the "Circus Roncalli". 1993 staged his play " Sein and Schein" at the Burgtheater in Vienna. In 1995 he designed the "Kristallwelten" (crystal worlds) theme area at Wattens and "Meteorit" at Essen (Germany) in 1998. Film work.
---
Further works: Showprojects: Flic-Flac, 1981 (variety show); Theater des Feuers, 1983; Begnadete Körper, 1985 (chinese acrobats); Luna Luna - Jahrmarkt der modernen Kunst, 1987 (with contributions by R. Lichtenstein, S. Dalí, K. Haring, F. Hundertwasser and P. Glass); Body and Soul, 1988; Das exzentrische Privattheater des Maharana von Udaipur, India, 1991; Magneten, 1993; Yume, 1997. - Numerous book publications.
Literature: A. H. Bilderleben, 2000.
---