Gurk, Eduard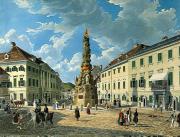 © Copyright
Eduard Gurk, main square in Baden. Watercolour, 1830 (Albertina, Vienna).
---
Gurk, Eduard, b. Vienna; Nov. 17, 1801, d. Jerusalem (Israel), March 31, 1841, painter of landscapes, lithographer and copper engraver. Began studying under his father; supported by Prince Metternich and appointed "Hofkammermaler" (title awarded for great merit in painting at court).
---
Works: engravings on Vienna scenes with J. B. and J. N. Hoechle; peep-hole pictures with motifs of the monarchy for Archduke Ferdinand, from 1833; depiction of events from the public life of Ferdinand.
Literature: M. Lor, E. G., Exhibition guide, Albertina, Vienna 1978.
---