Grün, Anastasius eigentlich Anton Alexander Graf von Auersperg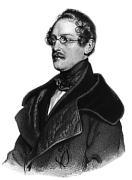 © Copyright
Anastasius Grün, lithograph by J. Kriehuber
---
Grün, Anastasius (real name: Anton Alexander Count of Auersperg), b. Ljubljana, Slovenia (then Laibach), April 11, 1806, d. Graz (Styria), Sept. 12, 1876, poet and epic writer, translator. Studied law in Vienna and Graz, then travelled to Italy, Germany (where he rose to fame with authors of the "Schwäbische Schule", esp. with L. Uhland), France and England; in 1848/49 member of the Frankfurt parliament; 1861-1876 member of the upper chamber of the Reichsrat; friend of N. Lenau, whose hitherto unpublished works (1851) and "Collected Works" (1855) he published. G.'s work is marked by liberal thought, he criticises the system under Metternich and clericalism (esp. in his collections of poems "Spaziergänge eines Wiener Poeten" (1831) and "Schutt" (1835).
---
Further works: romances: Balladen der Liebe, 1830; Der letzte Ritter, 1830; Gedichte, 1837. - Satirical verse narratives: Die Nibelungen im Frack, 1843; Der Pfaff vom Kahlenberg, 1850. - Translations of Slovenian and English Works. - Editions: Polit. Reden und Schriften, publ. by S. Hock, 1906; Sämtliche Werke, publ. by E. Castle, 6 vols., 1909; Zeit ist eine stumme Harfe, foreword and extension by U. Baumgarten, 1958.
Literature: A. Schlossar, A. G. Sein Leben und Schaffen, 1907; F. Riedl, A. G., 1909; R. Wächter, A. G. politische Dichtung, 1933; F. Sengle, Biedermeierzeit, vol. 3, 1972; R. Wiedner, A. G. Gedicht-Sammlung "Schutt", diploma thesis, Innsbruck 1988; D. Scharmitzer, A. G.: Versuch einer Monographie, doctoral thesis, Vienna 1996.
---