Ehn, Karl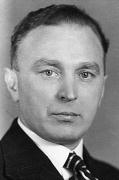 © Copyright
Karl Ehn, photo around 1939
---
Ehn, Karl, b. Vienna, Nov. 1, 1884, d. Vienna, July 26, 1959, architect, student of O. Wagner, 1908-1950 in the constant service of the Vienna City Administration. Designed a wide variety of public buildings, mainly urban housing (comprising a total of 2716 flats). The buildings were characterised by a sculptural and holistic approach and striking detail.
---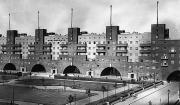 © Copyright
Karl Ehn, Karl-Marx-Hof, 1927-1930, in 19th district of Vienna, Heiligenstädter Strasse
---
Works: Siedlung Hermeswiese, Vienna, 1923; Bebelhof, Vienna, 1925-1927; Karl-Marx-Hof, Vienna, 1927-1930 (housing complexes).
---