Eckstein, Bertha geborene Diener, Pseudonyme: Sir Galahad, Helen Diner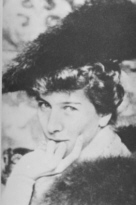 © Copyright
Bertha Eckstein, photo 1902
---
Eckstein, Bertha (née Diener, pseudonyms: Sir Galahad, Helen Diner), b. Vienna, March 18, 1874, d. Geneva (Switzerland), Feb. 20, 1948, writer and translator, married to philosopher Friedrich E.; lived in Switzerland from 1920; wrote works on cultural and literary history in addition to novels and narratives. "Mütter und Amazonen" ("Mothers and Amazons", 1932), which supports the superiority of matriarchal systems, is considered E.'s most important work.
---
Further publications: Die Kegelschnitte Gottes, 1920; Idiotenführer durch die russ. Literatur, 1925; Byzanz, 1936; Bohemund. Ein Kreuzfahrerroman, 1938; Der glückliche Hügel, 1943 (novel about R. Wagner).
Literature: S. Mulot-Déri, Sir Galahad - Porträt einer Verschollenen, 1987; R. Freund, Land der Träumer, 22000.
---