Ebner, Jeannie verheiratete Allinger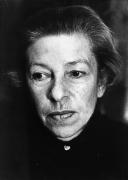 © Copyright
Jeannie Ebner, photo
---
Ebner, Jeannie (married name: Allinger), b. Sydney (Australia), Nov. 17, 1918, poet and narrative writer, niece of Ferdinand Ebner; grew up in Wiener Neustadt, has lived in Vienna since 1946. 1968-1979 co-editor of the periodical "Literatur und Kritik" (Literature and Criticism). Religious, metaphysical ideas, the relationship between man and woman and autobiographical elements are especially important to her work.
---
Works: Poetry: Gesang an das Heute, 1952; Gedichte und Meditationen, 2 vols., 1978/1987. Sämtl. Gedichte 1940-93, 1993. - Novels and narratives: Sie warten auf Antwort, 1954; Die Wildnis früher Sommer, 1958 (revised 1978); Der Königstiger, 1959; Die Götter reden nicht, 1961; Figuren in Schwarz und Weiß, 1964; Drei Flötentöne, 1981; Zauberer und Verzauberte, 1992; Der Genauigkeit zuliebe. Tagebücher 1942-1980, 1993; translations from the English (D. Lessing). - Edition: G. Trenkler (ed.), Ein J.-E.-Lesebuch, 1998.
Literature: C. Kleiber, J. E., 1985.
---