Brüll, Ignaz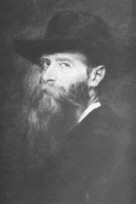 © Copyright
Ignaz Brüll. Oil painting by F. Lenbach.
---
Brüll, Ignaz, b. Prostejov, Czech Republic (Proßnitz), Nov. 7, 1846, d. Vienna, Sept. 17, 1907, pianist and composer. His works enjoyed great popularity during his lifetime but were soon forgotten after his death. Member of the circle around J. Brahms.
---
Works: Operas: Der Bettler von Samarkand, 1864; Das goldene Kreuz, 1875. - Orchestral works (3 orchestral serenades), chamber and piano music.
Literature: H. Wecker, Der Epigone. I. B., ein jüdischer Komponist im Wiener Brahms-Kreis, 1994.
---