Brand, Johann Christian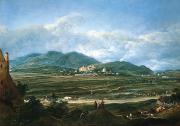 © Copyright
Johann Christian Brand, landscape south of Vienna. Painting, 1790 (Niederösterreichisches Landesmuseum, St. Pölten).
---
Brand, Johann Christian, b. Vienna, March 6, 1722, d. Vienna, June 12, 1795, painter; son of Christian Hilfgott Brand, brother of Friedrich August Brand. Studied at the Vienna Academy from 1736; awarded the titles Kammermaler* in 1766 and "Professor of Landscape Drawing" in 1772. His landscape paintings marked the transition from the baroque to the 19th century style of landscape depiction.
---
Works in Laxenburg Castle, Österreichische Galerie in Belvedere Palace, Vienna Historical Museum, Museum of Military History, National Gallery Prague, Göttweig, Klosterneuburg, Museum at the Schottenstift, Liechtenstein and Harrach galleries.
Literature: S. Hofstätter, J. C. B. 1722-1795, doctoral thesis, Vienna 1973; P. Pötschner, Wien und die Wr. Landschaft, 1978; NDB.
---