Böhm, Karl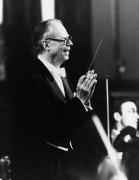 © Copyright
Karl Böhm. Photo, around 1970.
---
Böhm, Karl, b. Graz (Styria), Aug. 28, 1894, d. Salzburg, Aug. 14, 1981; conductor, studied law; father of Karlheinz Böhm. After his first engagement in Graz (while studying law) started to work for the Vienna State Opera in 1921. He quickly gained an international career in the 1920s and 1930s (e.g.: conducted the premiere of R. Strauss' "Die schweigsame Frau" in London). 1943-1945 and 1954-1956 director of the Vienna State Opera (conducted Beethoven's "Fidelio" at the reopening of the State Opera in 1955); gained fame with his interpretation of works by Mozart with the "Wiener Mozartesemble" during the 1950s and 1960s. As a conductor he followed the instructions of the composer in a harmonious, smooth and very exact manner. Numerous honours, in 1964 first Austrian "Generalmusikdirektor", Austrian Decoration for Science and Art 1970.
---
Literature: K. B., Ich erinnere mich ganz genau, 1968 (autobiography); F. Endler, K. B. Ein Dirigentenleben, 1981.
---
References to other albums:

---