Bettauer, Hugo Maximilian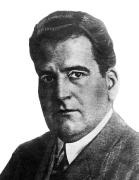 © Copyright
Hugo Bettauer, photo
---
Bettauer, Hugo Maximilian, b. Baden (Lower Austria), Aug. 18, 1872, d. Vienna, March 26, 1925 (murdered), writer and journalist. 1899 moved to New York and took American citizenship; correspondent and literary editor on various newspapers (serialized novels); 1910 returned to Austria; 1914-1918 on the editorial staff of the Austrian daily "Neue Freie Presse"; 1924 with R. Olden editor of the magazine "Er und Sie. Wochenschrift für Lebenskultur und Erotik" ("He and She. Life-Style and Erotic Weekly"), which ceased publication after five editions; his novel "Die freudlose Gasse", 1924 ("Street without Happiness") was adapted for the screen in 1925 by G. W. Pabst and featured G. Garbo. B. was murdered by a National Socialist fanatic.
---
Works: Die Stadt ohne Juden, 1922; Der Kampf um Wien, 1923; Die freudlose Gasse, 1924; Das entfesselte Wien, 1924. - Edition: Gesammelte Werke, 6 vols., 1980.
Literature: M. G. Hall, Der Fall B., 1978.
---