Bayr, Rudolf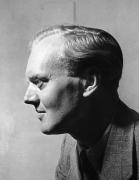 © Copyright
Rudolf Bayr, photo
---
Bayr, Rudolf, b. Linz (Upper Austria), May 22, 1919, d. Salzburg, Oct. 17, 1990, dramatist, poet, essayist, critic and translator, 1948-1951 editor of the magazine "Vienna Literary Echo", head of the Department of Culture and Science at the Austrian broadcasting corporation ORF, 1975-1984 Director-general of the ORF studios in Salzburg, 1953 Grillparzer Prize, 1960 Austrian State Prize.
---
Works: Poetry: Der Wolkenfisch, 1965; Flugsand und Schlaf, 1988. - Dramas: Sappho und Alkaios, 1952; Die Liebe der Andrea, 1954; Agamemnon muß sterben, 1965. - Prose: Die Schattenuhr, 1976; Ein Loch im Lehm, 1981; Die Eiben von Sammezzano, 1984. - Adaptations from ancient Greek (Sophocles): Antigone, 1961; Elektra, 1963.
Literature: R. B., Ich habe nichts als mich, ed. by B. Steinwendtner, 1999.
---