Baumann, Ludwig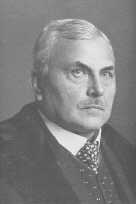 © Copyright
Ludwig Baumann, photo 1910
---
Baumann, Ludwig, b. Krapovec, Czech Republic (then Seibersdorf near Troppau), May 11, 1853, d. Vienna, Feb. 6, 1936, architect, co-founder of the Architects´ Central Association. His style is typical of the neo-Baroque, partly incorporating late Secessionist elements.
---
Works: Architectural design and town planning of Berndorf (Lower Austria), from 1888; in Vienna: Lower Austrian Chamber of Trade and Industry (present-day Chamber of Commerce of Vienna), 1905-1907, Extension of the New Hofburg Imperial Palace, 1907-1914; Ministry of War (today government building), 1909-1913; Residential and office buildings.
Literature: R. Kolowrath, L. B., 1985.
---