Bauer, Wolfgang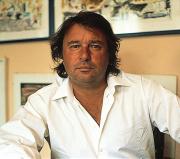 © Copyright
Wolfgang Bauer, photo, 1994
---
Bauer, Wolfgang, b. Graz (Styria), March 18, 1941, dramatist, scriptwriter for television and radio, poet and novelist, member of the Grazer Autorenversammlung (Graz Association of Authors) and of Forum Stadtpark in Graz; works with G. Falk. Strongly influenced by rock and pop music culture in his youth, his breakthrough came with his staged assault on middle-class values in the play "Magic Afternoon" (1968). The irony attached to both the dramaturgical effects and the language of his characters interwoven with elements of the absurd theatre is used to highlight social evils. 1994 Grand Austrian State Prize.
---
Further works: Dramas: Mikrodramen, 1964; Change, Party for Six, 1969; Katharina Doppelkopf und andere Eisenbahnstücke, 1973; Gespenster, Silvester oder Das Massaker im Hotel Sacher, Film und Frau, 1974; Pfnacht, 1980; Das kurze Leben der Schneewolken, 1983; Ach armer Orpheus, 1991; Kantine, 1993. - Novel: Der Fieberkopf, 1967. - Poems: Das Herz, 1981; Das stille Schilf, 1985. - Edition: Werke, ed. by G. Melzer, 8 vols., 1989-1996.
Literature: G. Melzer, W. B. Eine Einführung in das Gesamtwerk, 1981.
---