Battista, Ludwig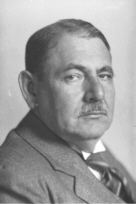 © Copyright
Ludwig Battista, photo around 1925
---
Battista, Ludwig, b. Vienna, July 12, 1880, d. Vienna, May 25, 1951, pedagogic expert and school reformer, from 1923 employed at the Ministry of Education as head of the department for pedagogic affairs in primary schools, initiated 1927 a school reform including the establishment and extension of basic secondary schools ("Hauptschulen") and supported the reform in the training of teachers.
---
Works: Großstadtheimat, 1918, 31951; Der Sachunterricht in der Volksschule, 1928; Die ö. Volksschule, 1937, 31948.
Literature: R. Hufnagl, L. B., doctoral thesis, Salzburg 1978.
---