Bacher, Gerd Gerhardt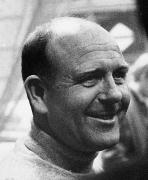 © Copyright
Gerd Bacher. Photo, around 1975.
---
Bacher, Gerd (Gerhardt), b. Salzburg, Nov. 18, 1925, journalist ("Salzburger Volkszeitung", "Salzburger Nachrichten", "Bild - Telegraf", "Express"), managing director of the publishers F. Molden (Vienna) and R. Kiesel (Salzburg), 1974-1978 media adviser to German Chancellor Helmut Kohl; 1967-1974, 1978-1986 and 1990-1994 director-general of the Austrian broadcasting corporation ORF. B. played a major role in reforming and modernizing the Austrian broadcasting system in accordance with the broadcasting acts of 1966 and 1974. Is credited with raising the ORF's image to international standards.
---
Literature: G. B. zu Ehren, ed. by ORF, 1985; M. Schmolke (ed.), Der Generalintendant. G. B. Reden, Vorträge, Stellungnahmen aus den Jahren 1967 bis 1994, 2000.
---