Altlerchenfelder Kirche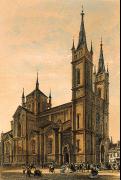 © Copyright
Altlerchenfeld Church. Chalk coloured lithograph by R. von Alt, 1849.
---
Altlerchenfeld Church (of the 7 Sanctuaries), in 7th district of Vienna, one of the main works of Romantic Historicism built in northern Italian style. Richly divided basilica built of unfired bricks, begun in 1848 by P. Sprenger, J. G. Müller and E. van der Nüll, completed 1850 under F. Sitte, consecrated 1861. Richly decorated with wall paintings in Nazarene style: Christological work by J. von Führich, executed by C. Blaas, E. Engerth, L. Kupelwieser and others; ornament designs by E. van der Nüll.
---
Further reading: N. Nemetschke and G. Kugler, Lexikon der Wiener Kunst und Kultur, 1990.
---